You've lost and regained more times than you can count
You've never not been on a diet. You've struggled with your weight and your goals for so long. You enter this cycle of eating when sad, stressed, bored, etc. and then feel guilty but promise yourself tomorrow will be a new day.
You've accomplished so much in other areas of your life and feel like food is the one area you lack control. You're sick of this and want to be free! You want to stop restricting and start living while also being able to accomplish your weight loss goals.
You know there has to be a way to have a healthy relationship with food and you're right- there is!
Nutrition is such a complicated science and I am here to help break it down for you. In this course you will get access to the following:
8 modules and a library of step-by-step guided worksheets, downloadable templates, writing prompts, various resources and more!
The Curriculum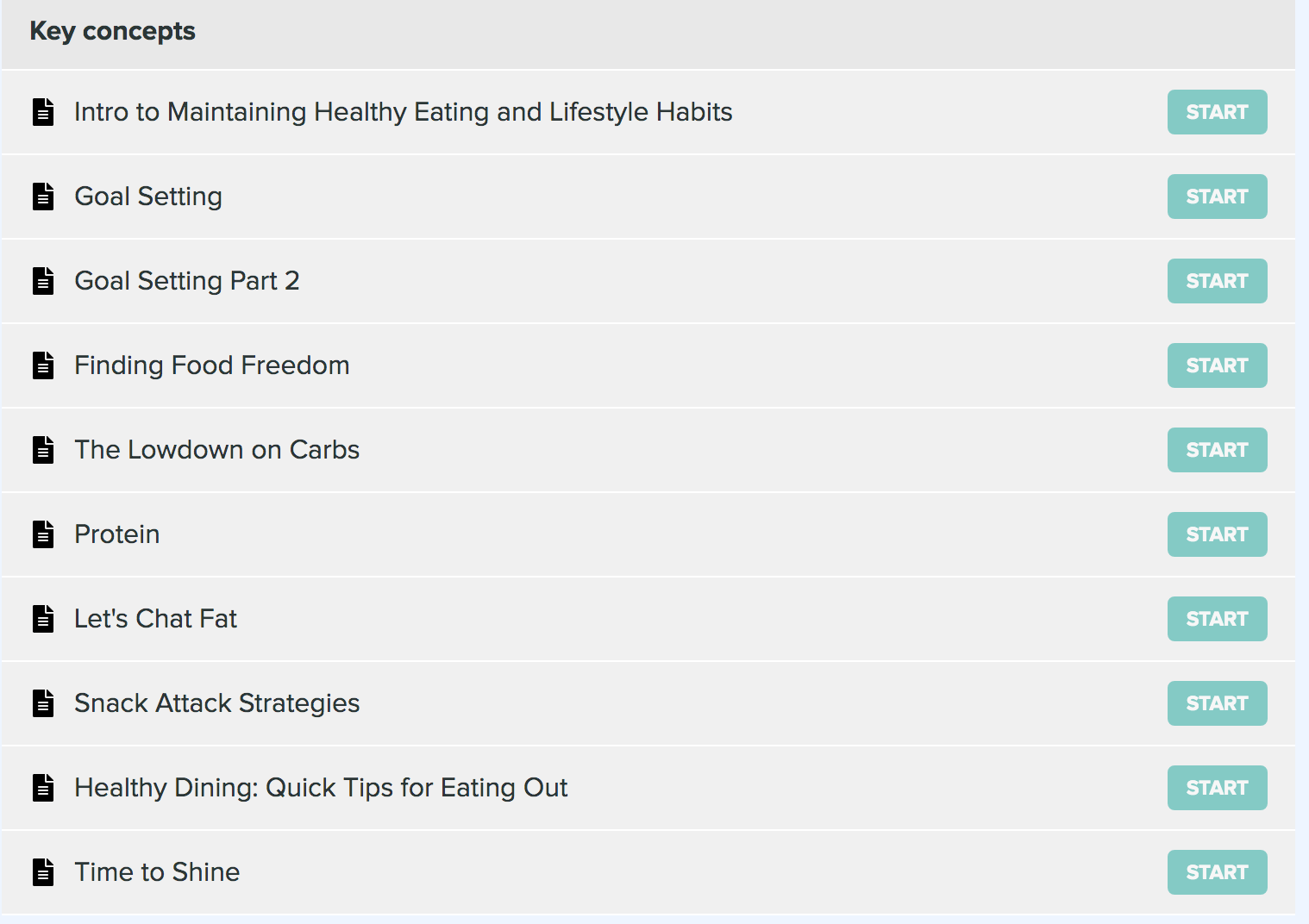 The value:
Just check out the numbers:
Your weekday latte and breakfast sandwich = $200 / month
Takeout foods = $550+ / month
Shakeology/Lean body shakes + supplements = $300+ / month
The amount of time you will get back from not having to think about food and ACTUALLY GAINING FOOD FREEDOM 24/7 = PRICELESS
There is no quick fix. Now is the time to put in the work and LEARN.
Invest in something that will have a LIFELONG IMPACT..
If you don't invest in your physical and mental health now, you'll be forced to pay for it later.
This is an educational program meant to develop lifelong habits.
This is a one time investment that keep paying for itself for the rest of your life.
It's your time!
In this course you'll find…
✓ Snack Attack Strategies and Food Guides
✓ Tons of worksheets and printouts for dining out without disaster, eating while on the go and traveling, and mindful vs intuitive eating
✓ Flexibility and customization
✓ How to Nourish Your Body and Achieve Freedom from Guilt with Eating!
✓ Science-backed advice on how to rev your metabolism, lose weight, and keep it off!
✓AMAZING RESULTS ~ inside and out!!!